Student-Informed Personalization
Truly personalized learning happens when students own their preferences, goals, and especially their choices. The Own it! Personal Learning Profile enables true personalization by helping students discover what motivates them and accelerates the student-teacher connections proven to improve student performance.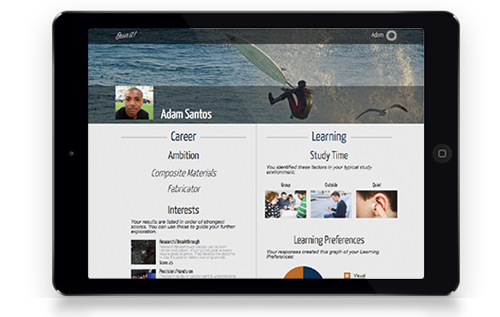 Case Studies And Examples
Grad High Georgia increased retention 10% among students who took Own it! at the beginning of the term. Those same students also showed 20+ percentage point gains in attendance and on-time course completion.
Faculty and staff at Achievement House Philadelphia took Own it! along with students, creating a school-wide culture of ownership.
After seeing the first year results, American International School of Utah required parents of incoming students to take Own it! along with their children.
District and School Level Reporting
Students' individual scores are rolled up in school and district-level reports, providing valuable insights into academic preparation, online readiness, self-efficacy and other key indicators of student performance.
"Internalize Own it! Eat it, sleep it, walk it, talk it, because it is absolutely excellent."
Benjamin Green, Center Director, Achievement House Cyber Charter School, Philadelphia
"Own It! introduces accountability and reduces problems with student engagement and pacing. It's extremely valuable in helping our teachers get to know the students and support them in their learning."
Dr. Monica Henson, Superintendent, Graduation Achievement Charter High School Atlanta